Top 10 Oxygen Concentrators under Rs 45,000 in India (2021)
Are you trying to find reliable Oxygen Concentrators that come with a reasonable price tag? We are delighted to let you know that it is no longer a difficult quest! Owing to advancement in medical technology and easier import facilities, budget oxygen concentrators from trusted brands are quite readily available in India.
To help you select the best option, we have handpicked 10 of India's best Oxygen Concentrators for home use within the price range of Rs. 45,000.
Before we proceed, are you aware of the features that you should be looking for in an oxygen concentrator? To make sure you find the model best suited to you, go through one of our previous articles 8 Step Guide to Buy Oxygen Concentrator in India. It will give you all the information that you must know before buying an Oxygen Concentrator.
Portable Oxygen Concentrators are better suited to those who lead an active lifestyle and need to commute or travel often. In case you fit into this category, you might want to read up Top 10 Portable Oxygen Concentrators in India. Here, you will find lightweight, compact, and portable models with long battery life to facilitate effortless movement.
For those who don't require portability, and don't have a budget constrain for a 5-litre home oxygen concentrator may like our list of Top 10 Home Oxygen Concentrators in 5-litre category.
Now, let's get back to budget Oxygen Concentrator models. Here's our list of the Top 10 Oxygen Concentrators under Rs. 45,000 in India:
| Rank | Home Oxygen Concentrator | Price in India | Where to buy |
| --- | --- | --- | --- |
| 1. | Oxymed Mini | ₹ 35,000-39,000 | |
| 2. | Evox 5 LPM | ₹ 39,000-44,000 | |
| 3. | Yuwell 9F Touchscreen | ₹ 42,000-47,000 | |
| 4. | GVS Oxy-Pure | ₹ 34,000-36,000 | |
| 5. | Dr Diaz | ₹ 35,000-42,000 | |
| 6. | Yuwell 8F 5 LPM | ₹ 38,000-46,000 | |
| 7. | Home Medix 5 LPM | ₹ 35,000-42,000 | |
| 8. | Healthgenie HG503 | ₹ 34,000-36,000 | |
| 9. | BPL Oxy 5 Neo | ₹ 42,000-52,000 | |
| 10. | Nareena 5LPM | ₹ 37,000-39,000 | |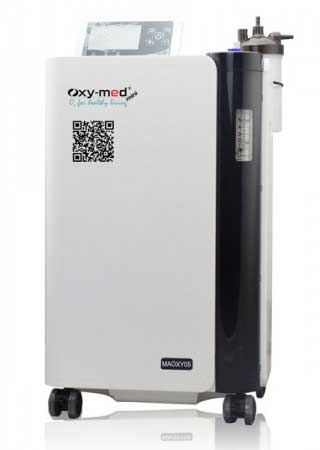 Country
China

Weighing only 13.9 kgs and measuring roughly 2355 cubic inches, Oxymed Mini is one of the most compact Oxygen Concentrator models. It has a host of advanced and useful features that make it popular among dealers and consumers alike.
It comes with a built-in oxygen purity analyzer, which displays the accurate oxygen purity percentage. A smart self-diagnosis system allows it to alert the user regarding any issue that may require attention.
Flow-set buttons and oxygen flowmeter can be used to set and monitor the oxygen flow. It is equipped with two types of filters, a multi-user function, and an in-built nebulizer option.
Timer functions are available as well, allowing settings for up to 5 hours. The power consumption is 390 watts, which is quite reasonable, given its robust features.
Oxymed's compressors are made in Germany, the sieve beds are from France, and the parts are assembled in China.
Medequip Solutions LLP is responsible for the distribution of their products in India. The brand is known for their high-quality yet affordable products, which has earned them the second-widest dealer network, right after Philips Respironics.

Electricity consumption*: Approx. ₹643.5 per month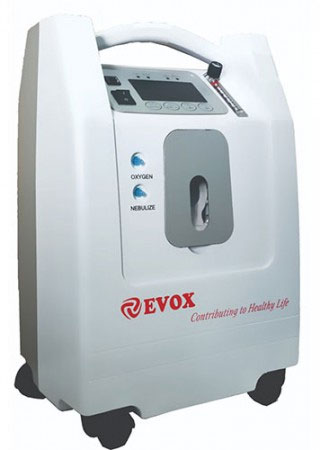 Country
China

This oxygen concentrator model features a large LED display with Smart Touch function. The controls are simplified, making it easy to use for children and aged users as well.
There are 6 safety protection systems implemented in this model, along with a nebulizer function. Although it is a budget-friendly model, it has timer options, screen auto-sleep mode for energy-efficiency, as well as oxygen purity level display.
It consumes 350 watts of electricity as it operates.
Evox 5 LPM is a user-friendly model weighing around 15.6 kgs and occupying 3679 cubic inches of space. EVOX is a segment of Ess Pee Enterprises, and it has earned respect from medical professionals.
The brand is known for its diverse product range, which caters to users with various ailments. Their products are efficient as well as affordable, which has helped them earn popularity in the dealer network.

Electricity consumption*: Approx. ₹577.5 per month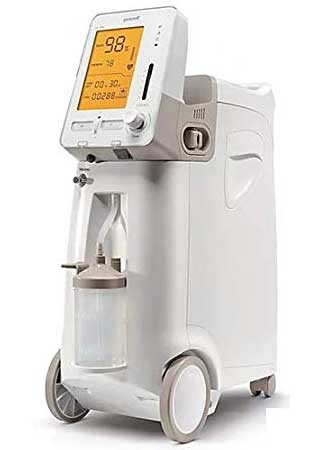 Country
China

What sets Yuwell 9F Touchscreen apart from other Oxygen Concentrators are its innovative features like advanced touchscreen operation and remote control facilities.
It is also equipped with a built-in pulse oximeter, which can be a convenient tool. It is also fitted with an in-built nebulizer port and an oxygen purity indicator.
There are 4 types of alarm systems to ensure enhanced security. The backlit LED display is easy to read for all users.
This user-friendly model is little bulky, weighing 18 kgs and taking up a volume of 7371 cubic inches. The power consumption is quite high too, at 400 watts. But if you have space, the features offered by Yuwell 9F Touchscreen make it an excellent choice.
The brand Yuwell was established in China, and their products are distributed in India by Impact Distributors, Hyderabad.
They have gained a significant share of the dealer network owing to the outstanding features shown by their products despite being cost-effective.

Electricity consumption*: Approx. ₹660 per month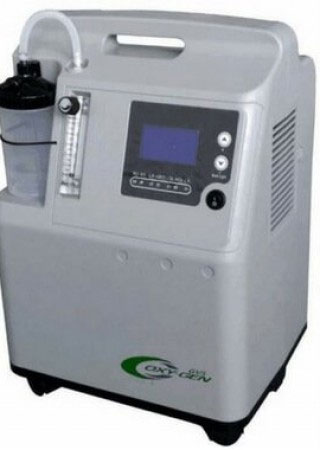 Country
China

GVS Oxypure is a compact and energy-efficient oxygen concentrator model. It only consumes 300 watts while operating.
It weighs 16 kg, which is at par with most Oxygen Concentrators offering similar features. It only takes up 3014 cubic inches of space.
It is easy to operate for the users themselves once they read the instruction manual.
GVS as a brand was founded in India in 2008. They deal in medical equipment that they either manufacture or import from different countries.
For every product retailed, GVS offers annual maintenance and support services. Besides, based on users' feedback, we have found that GVS has excellent customer support.
However, GVS has a negligible portion of the dealership network. This is why GVS oxygen concentrators are mostly sold online via Amazon.

Electricity consumption*: Approx. ₹495 per month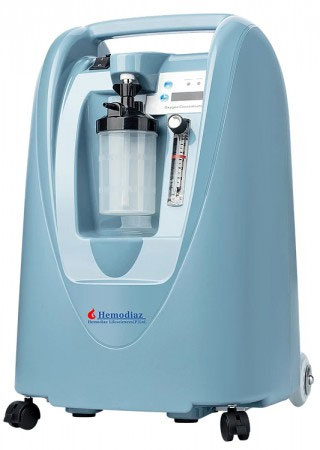 Country
China

A compact, reasonably lightweight, and surprisingly energy-efficient model. It can function at only 285 watts.
It takes up a volume of about 2974 cubic inches and weighs approximately 16 kgs. An additional feature of this oxygen concentrator model is that it has been designed to be eco-friendly.
Hemodiaz is an Indian company established in 1998. Their oxygen concentrators are manufactured in China by skilled professionals using quality raw materials.
Besides, they are known for offering power-efficient and compact products at reasonable prices. They have tapped into a decent share of the dealer network.

Electricity consumption*: Approx. ₹470.25 per month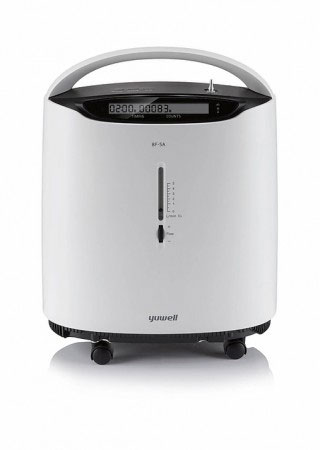 Country
China

Even though it looks bulky, with a volume of 7347.06 cubic inches, it is quite lightweight at 15.5 kgs only.
It consumes about 400 watts to operate since it has plenty of useful features. Its compressor has been designed using advanced German technology.
Its self-diagnosis system, armed with multiple safety alarms, makes sure that it keeps running smoothly over the long term.
Its lightness, as well as the large handle on top, makes it easy to carry around. This makes it an efficient pick for rental agencies.
We have already discussed how Yuwell's brand name and innovation has helped its popularity among dealers while discussing Yuwell 9F Touchscreen.

Electricity consumption*: Approx. ₹660 per month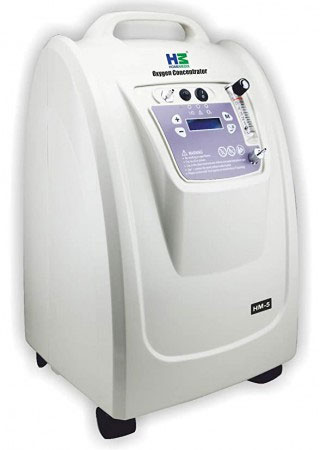 Country
China

Weighing 21.50 kg and measuring 4688.35 cubic inches, the Home Medix 5 LPM packs in impressive specifications within budget.
It comes fitted with a high-efficiency filter that ensures pure air flow. It operates with an intelligent diagnostic system that enables time setting controls.
It has a nebulizer function as well as an oxygen purity sensor, which assures you of pure oxygen you are breathing.
Its bonus ultra quiet technology keeps noise levels down while it operates. Its power consumption stands at 390 watts, which is not very low yet acceptable owing to its features.
Home Medix India Private Limited was incorporated in the year 2004. It has been importing and dealing in Oxygen Concentrators along with several other healthcare devices.
They work with a team of biomedical engineers who provide swift and top-grade consumer support. Their products are appreciated for their efficient features and affordability.

Electricity consumption*: Approx. ₹643.5s per month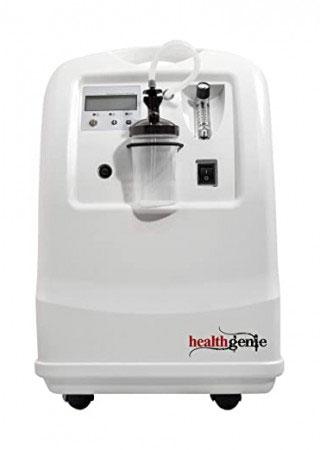 Country
China

This oxygen concentrator model is on the heavier side, weighing 21 kgs and measuring 3935.46 cubic inches. It is fitted with a low noise motor for nearly silent operation. The wheels are durable and ensure easy transportation.
Moreover, Healthgenie oxygen concentrators are popular due to their attractive price range. HG503's predecessors HG501 & HG502 were some of the lowest-priced Oxygen Concentrators in India. The products are mainly sold online through e-commerce websites.
Healthgenie.in was founded in 2011 and is headquartered in New Delhi. It strives to meet the countrywide demand for healthcare equipment and services through an online platform.
It has a wide reach in terms of delivery, and it is always updating itself to the changing technological scenario within the medical field.

Electricity consumption*: Approx. ₹577.5 per month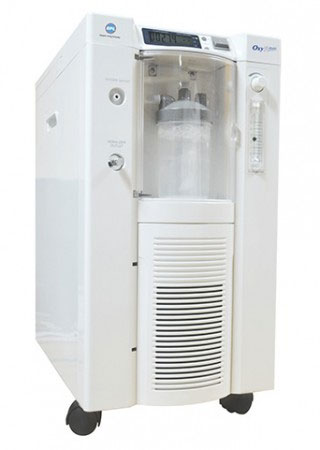 Country
China

BPL Oxy 5 Neo is one of the most trusted budget Oxygen Concentrators in India. It demonstrates robust performance, guaranteeing a stable supply of oxygen with high purity.
But as a result of its high performance and low price, it is not very compact or energy-efficient. Its power consumption is 400 watts. It also weighs 25 kgs while taking up 4525 cubic inches.
BPL's brand name does not require separate mention since it has already won the trust of its consumers in India.
BPL Oxygen Concentrators are supplied by BPL Medical Technologies, which is an Indian multinational company started in 1967. They have been offering innovative and reliable products for years, which makes them a popular name in the field.

Electricity consumption*: Approx. ₹660 per month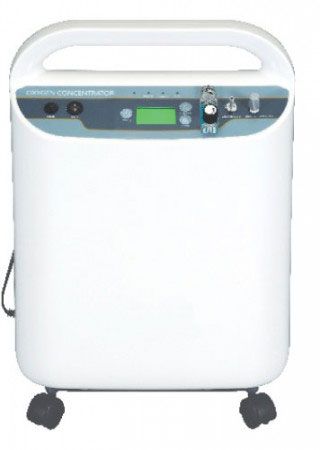 Country
China

Nareena 5LPM may look bulky at 4960.96 cubic inches, but it weighs only 15 kgs. It features an LCD display showing accumulating time and present working time.
There is a timer that can be used for auto shut off. If the purity of the oxygen falls below 82%, the user is alerted by the low purity alarm.
There is an alarm for high temperature within the system, which is triggered when the temperature reaches 55°C
It is also fitted with an in-built nebulizing function. Its power consumption is 550 watts.
Nareena Oxygen Concentrators are provided by Nareena Lifesciences Private Limited, an institution aiming to offer quality medical equipment at reasonable prices. They offer a diverse range of products intended to aid consumers with various health issues.

Electricity consumption*: Approx. ₹907.5 per month
Did this list help you find the right Oxygen Concentrator model within your budget? In case you have decided that you would like to explore options outside your budget before taking the final step, you can refer to our list of the best Oxygen Concentrators in India. Go ahead and check out Top 12 Oxygen Concentrators in India.
Once you are decided, let us take away another concern of yours: finding a suitable dealer. We have a handy Oxygen Concentrator Dealer Finder Tool you can use for this purpose. Simply enter your city and the brand you are looking for. Click on the 'Find Dealers' button to view the list of verified dealers who meet the criteria. You will also get their contact details and other useful information, such as the models they supply.
For more information regarding specifications, features, brand information, and dealer network of particular models, select the model from the dropdown below!
*Electricity consumption calculated with 10 hours per day usage @ ₹5.5 per unit