Buy/Rent Oxygen Concentrator in India
Medical Grade Purity guaranteed!
Oxygen Times Store
So, you live in India and you need to buy an Oxygen Concentrator, but you don't know where to find it. Even if you already know where, you might still have questions regarding the right model to choose, its proper price, and whether an oxygen cylinder would be a better alternative.
Let's try and seek the answers to all of these questions one by one.
First, it's important to address the reasons why a person might require an Oxygen Concentrator. This device is mainly used when one suffers from low blood oxygen levels.
Having low blood oxygen levels can be very harmful to your body which can cause difficulty in breathing, exhaustion, and confusion, which can affect your decision-making abilities. If Oxygen level in the blood gets too low it can hurt the functions of vital organs like brain and heart.
Some of the medical conditions that lead to low blood oxygen levels:
Chronic obstructive pulmonary disease (COPD)
Interstitial Lung Disease (ILD)
Sleep apnea
Heart failure
Underdeveloped lungs
Asthma
Cystic Fibrosis
Respiratory system trauma
Covid-19
Now, let's check out the process of getting an Oxygen Concentrator. This guide will help you to choose the right oxygen concentrator at the best price in India.
If you already know what type of oxygen concentrator you want, go straight to our list of the top oxygen concentrators in India and order directly online.
Let's now take a glance at these steps. You can jump to any particular step if you wish!
1. Check the Oxygen Saturation
An Oxygen Concentrator is advised only when you need supplemental oxygen due to low oxygen level in your blood. This should not be self-diagnosed and must be determined by a qualified medical professional.
The medical professional will monitor your blood oxygen levels, possibly using a device known as the Pulse Oximeter.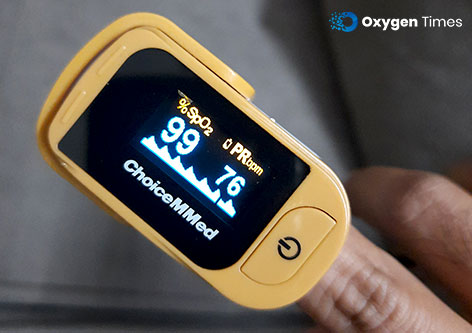 Checking Oxygen saturation (SpO2) using Pulse oximeter
If they notice that your SpO2, or Oxygen Saturation, is below 95%, they might recommend supplemental oxygen. The doctor will also mention how frequently or for how long you need to administer supplemental Oxygen.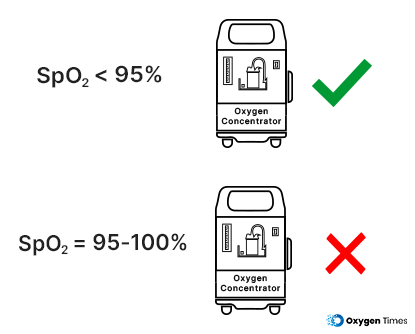 If you live in a city with high Air Quality Index (AQI) and think that you need an Oxygen Concentrator to breathe 'fresh air', you need to stop, read further, and then think again.
You need an air purifier to breathe cleaner and fresher air and not an oxygen concentrator.
You have normal oxygen levels then inhaling higher concentration of oxygen will do more harm than good and can cause oxygen toxicity.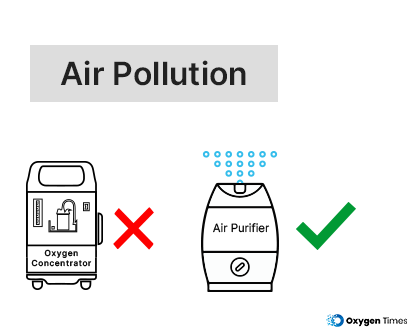 Even after you have been prescribed supplemental oxygen, you need to determine whether you need an oxygen concentrator or an oxygen cylinder.
Its simple to decide, if you require an oxygen source for a short emergency spanning over less than 120 hours, an oxygen cylinder is a better fit for you.
If you need oxygen for more than 120 hours a month, you could simply rent an Oxygen Concentrator. However, if you need oxygen continuously for longer than 1500 hours in your lifetime, then you should consider buying an Oxygen Concentrator.
| Supplemental Oxygen Requirement | Recommendation |
| --- | --- |
| Less than 120 hours | Rent an Oxygen Cylinder |
| Need Oxygen for more than 120 hours per month | Rent an Oxygen Concentrator |
| Need Oxygen for more than 1500 hours | Buy an Oxygen Concentrator |
2. Stationary Or Portable?
Now it's time to discuss which Oxygen Concentrator you should choose. This is where your budget plays a role. A Portable Oxygen Concentrator will cost you thrice more than a stationary one.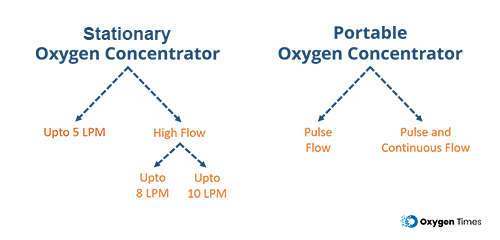 A Portable Oxygen Concentrator is a good option for you if:
You can afford to spend around ₹ 1.5 lakh to ₹ 2 lakh for a portable Oxygen Concentrator.
You need less than 4 LPM (Litres Per Minute) Oxygen. Some portable Oxygen Concentrators provide 5-6 LPM as well, but if the maximum capacity of the machine matches your requirement, then you shouldn't invest in it because if your requirement increases in the future, then you will have to buy a new unit and most portable available in Indian market provide only up to an equivalent of 5 LPM.
You can't stay without supplemental Oxygen, even if you go outdoors for a walk or to a market
You will be better off with a Stationary Oxygen Concentrator if:
You need to use Oxygen Concentrator along with a CPAP or BiPAP device.
You require more than 4 LPM Oxygen. You can choose a stationary Oxygen Concentrator for lower requirements as well, subject to the other factors.
You need to be administered supplemental Oxygen even while you are sleeping.
You need a steady supply of Oxygen throughout the day.
The following table will summarize when you should buy a portable vs when you should buy a stationary oxygen concentrator:
| | |
| --- | --- |
| Can spend 1.5 Lakh to 2 Lakh | Portable & Stationary |
| Need more than 4 LPM Oxygen | Stationary |
| Need Oxygen while sleeping | Stationary or Portable with continuous flow |
| You need oxygen all the time, even outdoors | Portable & Stationary |
Ideally, anyone who owns a portable oxygen concentrator should also have a stationary one for home use as stationary oxygen concentrators are more sturdy for long term use and have lower maintenance cost.
But, if you want to buy just a portable unit and want to use it while sleeping then you must go for a portable that has continuous flow option available like Philips SimplyGo, DeVilbiss iGo & SeQual Eclipse.
3. Determine The Flow & Oxygen Administration Device Required
Only your doctor should decide how much Oxygen you need and for how long. The doctor will first observe your SpO2 levels with the help of a Pulse Oximeter.
With the aim of reaching 97-98%, your doctor will gradually increase the Oxygen flow. This will reveal your requirements.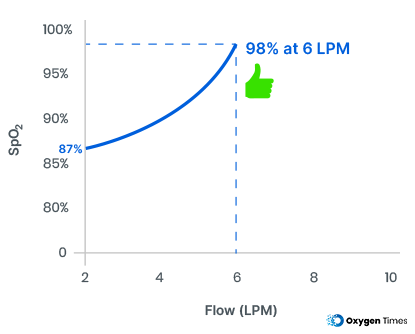 If your doctor has recently suggested supplemental Oxygen, there is a high chance that your requirement would be less than 5 LPM.
In such a case you should get a Stationary Oxygen Concentrator for home use like Philips Respironics Everflo, Oxymed Mini, Airsep Visionaire, Nidek Nuvo Lite & DeVilbiss 5 LPM. 5 Litre Oxygen Concentrators are most commonly used and hence easily available.
If your flow requirement is more than 2.5 LPM, you must use a humidifier to prevent dryness in the airways.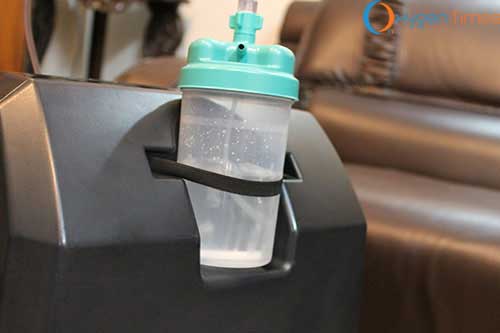 Using Humidifier with an Oxygen Concentrator
Make sure that the capacity of your Oxygen Concentrator is always higher than your requirement. Buy a 5 LPM Oxygen Concentrator for a requirement of 3.5 LPM, an 8 LPM Oxygen Concentrator for a requirement of 5 LPM, and so on.
| Your requirement | Recommended capacity of Oxygen Concentrator |
| --- | --- |
| Less than 4 LPM | 5 LPM machine |
| 4 - 6.5 LPM | 8 LPM machine |
| 6.5 to 10 LPM | 10 LPM machine |
You will also need an oxygen administration device. There are two types of Oxygen administration devices that work well with Oxygen Concentrators:
Nasal Cannula: This is used if the required flow is 6 LPM or less. Using nasal cannula is a comfortable option.

They are usually recommended for use with 5 LPM Stationary Oxygen Concentrators such as Philips Everflo, DeVilbiss 5 LPM, Oxymed Mini 5 LPM and almost all portable oxygen concentrators. Nasal cannula is not effective for requirements above 6 LPM.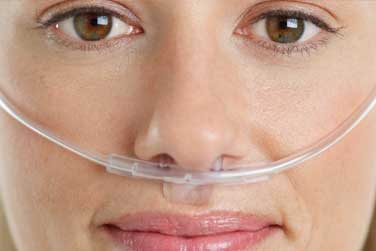 Nasal Cannula
Oxygen Mask: This is a better option for higher flow requirements, up to 10 LPM. It is best used with high flow Oxygen Concentrators such as Airsep Intensity 10, Nidek Nuvo 8, Oxymed 10 LPM, etc. You should not use them with the pulse flow mode of portable oxygen concentrators.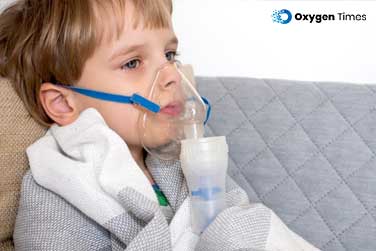 Oxygen Mask
Oxygen masks and nasal cannula are available in different lengths in India, stretching right up to 10 metres. If you want to move around the house without the hassle of carrying the machine along, opt for a longer tube.
However, a longer tube causes the Oxygen pressure to fall, which would have to be adjusted with a higher flow. That is, if you usually require 3.5 LPM with a 2-metre tube, you have to set it to 4 LPM with a 10-metre tube.
4. Look For An Oxygen Concentrator With Oxygen Purity Indicator (OPI)
In the Indian market, you might find many Oxygen Concentrators that come without an OPI (Oxygen Purity Indicator) to indicate whether the Oxygen purity is below therapeutic levels.
The OPI is generally an LED light designed to light up whenever the Oxygen purity falls below 85%, we are talking about purity of oxygen coming out of the machine here, do not confuse this with oxygen saturation of the blood.
If you buy an Oxygen Concentrator without an OPI, you will never know when the Oxygen purity goes below therapeutic levels.
Without an OPI on your Oxygen Concentrator, you could be taking in ordinary air without realizing it. This can be extremely dangerous when you are already struggling with low blood oxygen levels.
An Oxygen Concentrator model with OPI only costs ₹ 1500-2000 extra, but models without OPI are widely purchased by people due to lack of awareness.
Some new oxygen concentrators like Oxymed Mini 5 LPM & Evox 5 LPM have brilliantly taken purity indicators to a whole new level, they have built-in oxygen analyzers which will show you the exact Oxygen purity percentage.
5. Oxygen Concentrator Price In India
The price of Oxygen Concentrators is determined by their type, country of origin, and output flow. Price of Home Oxygen concentrators in India starts from ₹ 30,000 for 5-litre machines and can go up to ₹3.50 Lakh for high-end portables.
Checkout The Ultimate Guide to Oxygen Concentrator Prices in India
Most of the Oxygen Concentrators that are found in the Indian market are imported from either China or the USA. The ones imported from the USA are about 40% more expensive than their Chinese counterparts.
You should know about the pricing of Oxygen Concentrators before you hit the market. This is because most of the models don't have the MRP (Maximum Retail Price) written on them. The table below should give you some idea.
The price of a 5 Litre Stationary Oxygen Concentrator could be ₹ 30,000 if you pick a Chinese model. But it could also go as high as ₹ 65,000 if you select brands like Oxymed, Philips Respironics, Nidek Medical, Drive DeVilbiss and Caire.
Models with the higher flow will generally be more expensive, with 8 LPM Oxygen Concentrators at ₹ 66,000 to ₹ 95,000 and 10 LPM Oxygen Concentrators at ₹ 70,000 to ₹ 1.30 Lakh.
Pulse Flow Portable Oxygen Concentrators are even pricier, and they can cost you between ₹ 1.60 Lakh to ₹ 2.25 Lakh.
The Continuous Flow Portable Oxygen Concentrator comes with the heaviest price tag. These models are priced at a minimum of ₹ 1.80 Lakh.
Confused about how to figure out the best price for the Oxygen Concentrator model you have finalized? Head over to check our list of best oxygen concentrators in India to scout for the best price.
6. Best Oxygen Concentrator in India
Let's move on to the names! To make this whole process easier for you, we have prepared a list of the most popular and trustworthy Oxygen Concentrators available in the Indian market. You can click on the names to visit the profile page of the model.
You can easily find the selected model's specifications, features, and biggest competitors on its product page. Using the orange button on the product page, you can easily locate the dealers who supply the model in India. Let's check out the list now:
Stationary (5 LPM) Machines
You can find the complete price list of 5-litre Oxygen Concentrators here. Some of the best selling 5-litres models are mentioned below.
S. No.
5-litre Home Oxygen Concentrator
Price in India
Where to buy
1.
Nidek Nuvo Lite
₹ 52,000-60,000
2.
Philips Respironics Everflo
₹ 52,000-59,000
3.
DeVilbiss 5 LPM
₹ 52,000-58,000
4.
Oxymed Mini
₹ 44,000-48,000
5.
AirSep VisionAire 5
₹ 63,000-68,000
6.
Evox 5 LPM
₹ 39,000-44,000
View Full Price List of 5 LPM Oxygen Concentrators »
High flow (10 LPM) Machines
You can find the complete price list of 10 LPM home oxygen concentrators in India here. Below are some of the best selling 10 LPM home oxygen concentrators.
Lightweight Portables (Pulse Flow only)
You can find the complete price list of Pulse & Continuous Flow Portable Oxygen Concentrators in India here. Below are some of the best selling portables.
Still confused which Oxygen Concentrator would be best for you? Checkout our recommended picks based on your budget.
When you are done shortlisting the models, you can use our nifty Oxygen Concentrator Comparison tool to help you make the final decision.
7. Do Ask About The Warranty & Service Centre Location
Once you have selected the right model and narrowed down a dealer, you should gather some essential information. You can do that by asking the questions below:
How much warranty does the seller provide? The industry standard is 2-3 years.
Where in your city can you find the nearest service centre?
Will the company offer on-site service?
What is the contact number of the service centre? Don't forget to verify the provided number before you buy from the dealer.
8. Easiest Way To Buy Oxygen Concentrator Online
There's no need for you to wander around in search of Oxygen Concentrator dealers. You can depend on our best oxygen concentrator list to do all the legwork for you.
You can also view the service centre list along with other important specifications such as oxygen purity and warranty.
Simply click on the model you are planning to buy. Head to "buy now" and fill the details.
Your oxygen concentrator will be delivered to your doorstep within 1-3 days.
Read next: Top 12 Oxygen Concentrators in India in 2023 (with Price)