AirSep VisionAire - Product Review
Following the success of AirSep Newlife Elite; Airsep VisionAire was launched as one of the best continuous flow stationary oxygen concentrator with some major spec improvements like power consumption, weight, size and more.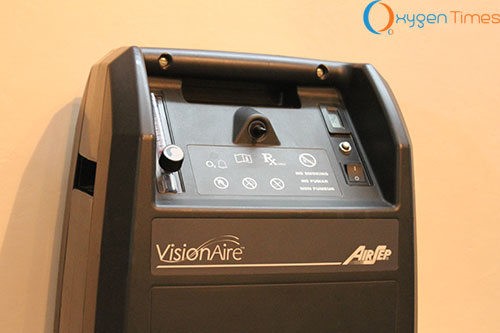 What you would like about Airsep VisionAire:
Light weight (13.6 kg) compared to other stationary competitors
Quiet operation
Cost effective operation (Power Consumption-290W)
Wide range of safety alarms
Maintenance free – No need for weekly cabinet filter cleaning
Output Pressure of 8 psi as compared to 5.5 psi of Respironics & Invacare
Relatively small in size
Compressor manufactured by Airsep itself; therefore, more control on the quality
What you won't:
Difficult to recognize alarms
Extra Tubing to connect VisionAire with Humidifier
Airsep's floating ball type flowmeter despite of being highly reliable is little difficult to set to 'exact' flow when compared to Nidek's lockable flowmeter.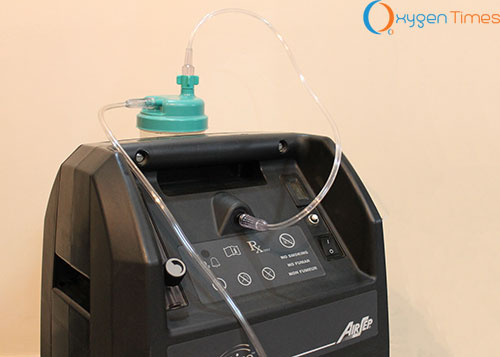 Size
Small and compact as compared to many stationary concentrators.
(20.8" H x 14.1" W x 11.5"D).
The compact size makes it easier to move around in house to keep in the boot of the car for travel/shifting.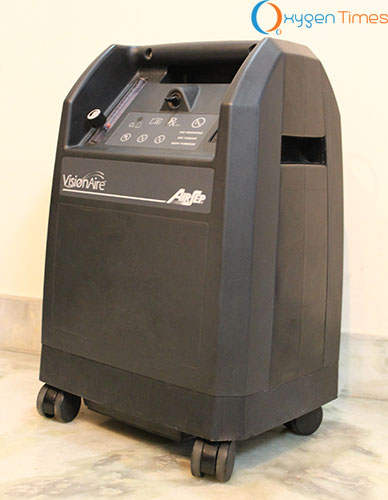 Oxygen Purity
Standard purity like any other concentrator of 90% (-3% / +5.5%) in operating range.
Weight
Almost same weight as close competing models of Respironics & Nidek.
VisionAire weighs 13.6 kg as compared to 14.5 kg of Nidek & 14 kg of Respironics. However, the machine, having the latest advancements in technology is quite smaller and lighter than some 5LPM concentrators like that of DeVilbiss weighing 16.5 kg & Invacare weighing 19.5 kg.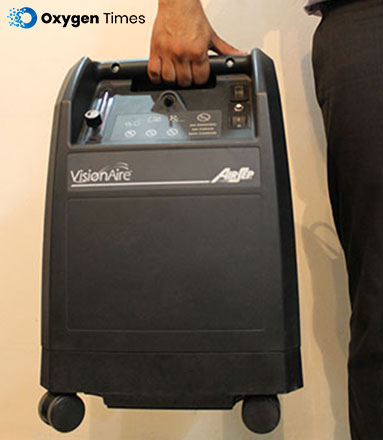 Power Consumption
The machine works on AC mains & is the most power efficient oxygen concentrator in the market consuming 290W of power. Apart from Nidek Nuvo-Lite, no other Oxygen Concentrator matches the power efficiency of Airsep VisionAire.
Flow
Provides continuous flow starting from 1 LPM to 5 LPM in increments of 0.5 LPM.
Airsep's floating ball type flow-meter is very reliable and accurately shows the flow that is being 'delivered' by the machine as compared to the close competitor Nidek's Nuvo-lite which shows what is 'set' rather than what is being 'delivered'.
However, the flow is 'little' difficult to adjust at exact LPM as compared to Nidek's user friendly lockable flow control knob which locks at all intervals of flow.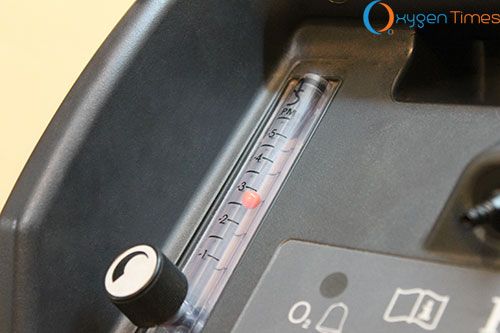 Alarms
No text display of alarms – therefore, one needs to look at the table of alarms to see which kind of alarm is represented by the visual or audible indicators.
Alarms in Airsep Visionaire

| Alarm Type | Visual | Audible |
| --- | --- | --- |
| No Power | None | Intermittent One beep |
| Low O2 | Amber Light on | Intermittent Two beeps |
| Low Pressure | None | Intermittent Three beeps |
| High Pressure | None | Intermittent Four beeps |
| High Temperature | None | Intermittent Five beeps |
| No flow | None | Intermittent Six beeps |
Amber light illuminates for 5 minutes after switching on the machine till the purity of Oxygen reaches a particular Oxygen saturation level.
However, it was observed that the machine reached at 94% purity within 1 minute only.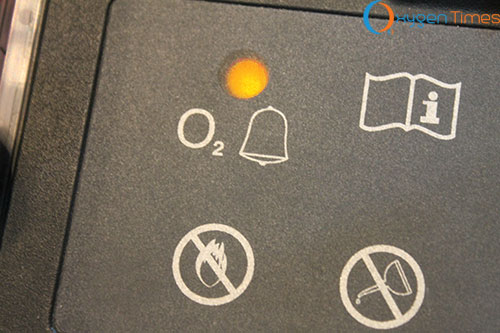 The company claims that all the alarms get activated after 5 minutes of operation.
The machine gives audible alarm if Oxygen purity goes below therapeutic levels (85%) for more than 15 minutes. The visual indicator turns ON whenever the Oxygen purity drops below therapeutic levels during operation.
Warm Up Time
5 minutes
Humidifier
The humidifier is placed above back panel of the machine & has an elastic belt to hold the bottle which loosens up & looks very ugly after few months of regular use. The humidifier has another tubing which gets kinked after regular use; will be a source of complaint.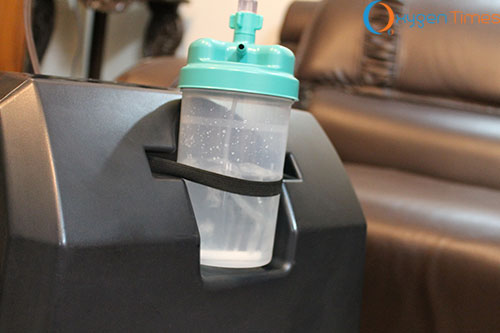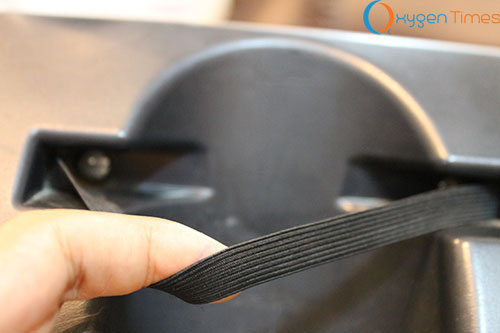 Humidifier in AirSep Newlife Elite is much easier to clean than in VisionAire.
Sound level
Very silent machine with 40dB of sound level
Filters
VisionAire doesn't have a cabinet/external filter unlike any of the competitors and Airsep claims that the internal filters last as long as the life of the machine making it maintenance free.
This absence of cabinet filter may become a cause of frequent service requirement in high dust environment.
Maintenance
The absence of cabinet filter in the machine makes it the only maintenance free machine in market as weekly cabinet filter cleaning is not required.
Altitude
up to 10,000 ft. (3,048m) above sea level
Compressor
The compressor is manufactured by Airsep itself; unlike any of the major competitors. The compressor is serviceable and need not be disposed off in case of failure.
Front panel
Front Panel is inclined for easy view.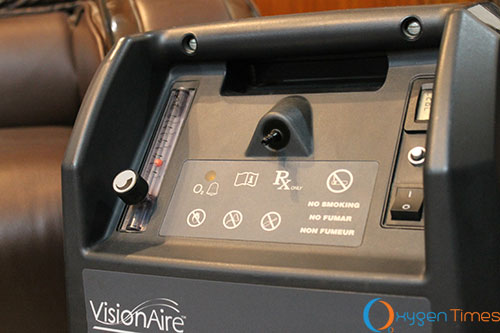 Power panel
Hour-meter shows the numbers of hours of operation, White colored Circuit Breaker trips to protect the machine in case of circuit failures - can be pressed to reset after trip.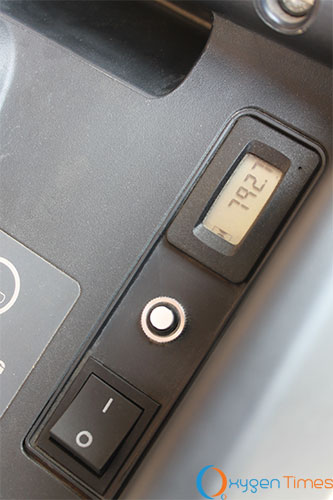 Oxygen Outlet
Nicely designed for suitable grip.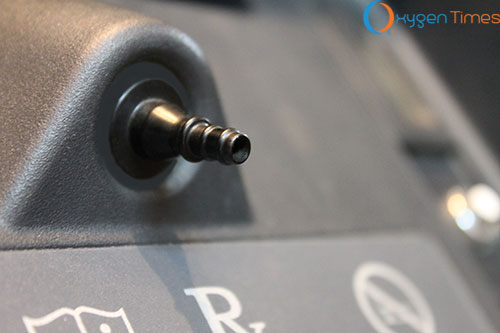 Backview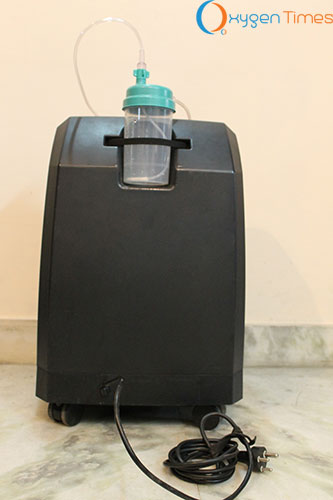 Top 5 Oxygen Concentrators in VisionAire 5' competition
Inogen At Home
Philips Respironics Everflo Q
Nidek Nuvo Lite
Invacare Perfect O2
DeVilbiss Healthcare 5 Liter Compact
Top 3 comparison with AirSep VisionAire 5
After a lot of research & development Airsep has finally come up with a reliable model of VisionAire; our sources revealed that the first few stocks had failure issues but all of them have been resolved by now.

The machine is suitable for patients who require supplemental Oxygen at home and who consider sound level, weight and power consumption of their Oxygen machine as very important factors.

VisionAire also has an optional air-outlet model for aerosol treatment which makes it a 1 box solution for oxygen therapy and nebulisation.